Health Action Products and Services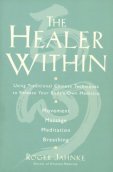 The human body produces a powerful medicine naturally—for no cost. This medicine is easy to activate using the Healer Within self-care methods.
The Healer Within shares four simple and profound practices to release your innate powers for self-healing. The methods — gentle movement, self-applied massage, breathing exercises, and meditation — are drawn from ancient Chinese moving meditations called Qigong and are easily adaptable to every lifestyle and medical condition.
This exciting and groundbreaking book may be used by wellness programs, hospitals, doctors and nurses for their patients, teachers, counselors and churches, as well as individuals.
For more information on The Healer Within self-care methods that complement any form of medical treatment or wellness program, call (805) 617-3390. For wholesale orders, call (805) 617-3390
The Circle of Life is a comprehensive, nationally prominent, and holistic, Mind/Body Wellness and Health coaching, system designed for Group Wellness Coaching and individual Health Coaching -- the only Wellness Coaching with a 20-year Success Track Record.

The Circle of Life is used nationally in health coaching, wellness coaching, stress management and lifestyle coaching programs in hospitals, the military, parishes, social agencies, universities, medical practices, work site wellness programs, health risk and disease management support groups, YMCAs, spas and fitness centers.